Is Your Work Making You Happy?
Thursday, March 8, 2018 | by Rachel Trainum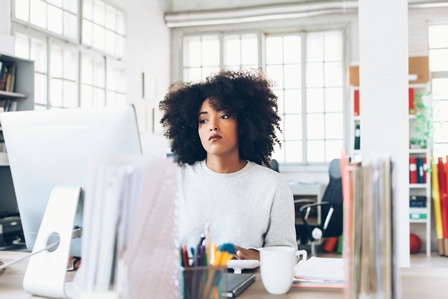 When entering the workforce, you hope you're going into a career and finding a job that makes you feel fulfilled and self-satisfied. But possibly you go into the workforce with contentment knowing you are fine where you're at but your work may not bring you much happiness.
Too often you hear the phrases "work isn't meant to be fun" or "nobody likes their job". Maybe you hear the opposite, "if you do something you love you'll never work a day in your life" or "my work doesn't seem like a job to me".
Being happy at work involves enjoying the results you're producing, culture of the company and the people you work with. Is your purpose at your job making you feel good? Are you finding anything redeeming about your work?
In the book "How To Be Happy At Work", Annie McKee goes through the different types of unhappiness at work, how it can be managed and where your unhappiness could be stemming from.
Initially McKee suggests determining if where you work is a "job", "career" or "calling". Taking this first step can lead you in the direction of how you can become happier at work.
She provides helpful tips and strategies to determine if you need a change. As much as change can be terrifying, you need to have what McKee calls a "wake-up call" to take the steps towards change. McKee mentions three ways one can experience a "wake-up call". There are physical, emotional and relational are the different types of "wake-up calls".
Throughout the book McKee offers exercises that prompt questions for you to answer. She recommends creating a personal vision for your life and work when working towards becoming happy at what you do.
Here are some of the questions from the book readers are asked to observe about themselves:
Clearly state your dream, what it is and what it means to you.

Identify two goals you hope to achieve while working towards your dream.

Make a list of intellectual, emotional, relational and other personal resources to help you achieve your goals and move towards your vision.
Even if now is not the right time for you to change your career or leave your job there are other ways to become happy there. Know that you can apply for a leadership position within your company as another option or request to join a different team or committee. Whatever reason you need to stay where you are make a point of searching for something good where you are. Focus on that and remember any positive change will make you and your personal relationships healthier overall.
And if you currently love your job and are happy look around your office and see if anyone is showing signs of unhappiness and how you can connect with them even if you might normally not. As mentioned in the book, office friendships can change attitudes and work-life experiences so it's important to cultivate those friendships.
What seems to be a common theme to happiness at work is having purpose. As long as you can find purpose and make connections you will find your work-life happiness or it will lead you to it.
Tero's Take
Setting goals is a large part of becoming happy at work. Once you reach those goals you feel satisfied in your achievement. So what are your goals? Tero believes you should devote part of every day to activities that answer the questions, "What one thing could I be doing that will move me closer to achieving one of my goals?" Once you start answering that question you can start moving towards a happier work-life.
---
Check Out More Blogs
Book of the Month Blogs
2016 Blogs
2015 Blogs
---
Do You Want The Insider Secrets On Projecting Yourself Professionally Online?
Award-Winning News Anchor and Tero Training Consultant, Dan Winters, presents his coaching program to do just that. Dan provides communication and social media coaching essential to representing yourself and your organization consistently and effectively across all platforms.
Click Here Now To Find Out More About This One-Of-A-Kind Opportunity >>