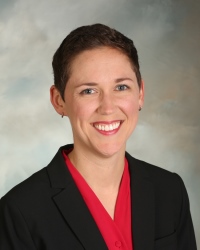 Liz joined the Tero team in 2019, bringing a background of communication, research, and development to the Learning Specialist position. Liz holds a Masters degree in Communication and Rhetorical Studies with a minor in Women's and Gender Studies from Syracuse University and a Bachelor's degree in Communication from the University of Northern Iowa.
While at Syracuse University, Liz's research centered on visual communication, social media, and white privilege. She used rhetorical criticism tools and methods to analyze how and why people choose to brand themselves certain ways online. She is currently in the process of co-authoring a book on the same subject and aims to create social change by critically engaging academic scholarship, activism, and popular media.
Liz taught coursework at Syracuse University to undergraduate and graduate students on subjects including public advocacy, oral communication, and communication research. Additionally, she was a Teaching Mentor who helped new Teaching Assistants on their teaching and presentation skills by delivering workshops and lectures. Her approach to teaching involves establishing trust, developing rapport, and incorporating different learning styles to meet the needs of adult learners.
In addition to her research and academic experience, Liz worked for nearly a decade in non-profit management and community development. She served in the U.S. Peace Corps in Rwanda as a Community Health Volunteer as well as completed a service-learning program in community development in Cape Town, South Africa. Liz was hand-selected to deliver the welcoming address to the U.S. Ambassador, Rwandan government leaders, and fellow volunteers at the U.S. Embassy during the Peace Corps Swearing-In Ceremony. Returning stateside, Liz managed volunteers and staff at local non-profit organizations while creating recreational and educational programming for youth, families, and people with disabilities. As a Program Director for the YMCA, Liz managed 30-60 child care workers, camp counselors, sport coaches, and preschool teachers. She developed staff trainings on topics including conflict management, annual reviews, customer service, teambuilding, and leadership.
Liz has presented her work at the National Communication Association, guest lectured at Syracuse University, and is currently a member of the Des Moines chapter for the Association of Women in Communication. Liz volunteers her time as a reader for IRIS, the Iowa Radio Reading Information Service for the Blind and Print Handicapped.
Liz is part of the executive and professional coaching team.