Candace N. Johnson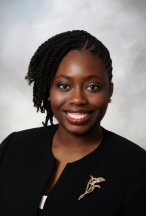 Candace N. Johnson is a Training Consultant for Tero International
Candace joined the team in 2017 and is trained and certified as a protocol officer by the Protocol School of Washington, her experience includes working in protocol, events, and communications at Syracuse University. Candace has also worked at the State Department in the Office of India Affairs, at the White House in the Office of Presidential Correspondence, at the Smithsonian in the Office of Special Events & Protocol, and at Rowman & Littlefield Publishing Group as an assistant publicist.
Candace brings to Tero her mantra "go out among them." She is dedicated to helping clients develop business skills that prepare them to go out among their peers and achieve their personal and organizational missions.
Candace earned her bachelor's degree in public relations from Howard University. She earned master's degrees in public relations and international relations from the S.I. Newhouse School of Public Communications and the Maxwell School of Citizenship and Public Affairs. he is a member of Alpha Kappa Psi Professional Business Fraternity and serves on the board of PBY, Inc. Originally from Memphis, Tennessee Candace is currently based on the east coast.
Most Popular Tero Resources
Copyright © 2017 Tero ® International, Inc.