Michele Whitty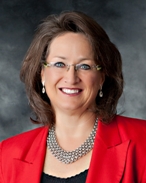 Michele Whitty is a training consultant for Tero International
She joined the Tero Team in 2011 and her role at Tero has evolved to include serving as a lead trainer for IMPACT presentation skills and a lead trainer in the Outclass Your Competition and Professional Presence business etiquette curriculums. Michele holds a certification as a Corporate Etiquette and International Protocol Consultant from The Protocol School of Washington.
Having former experience with careers as a Fundraiser and a Recreation Therapist, she believes effective communication, presentation skills and leadership opportunities were key to her progress and success in her professional life. As a Tero Consultant, she enjoys life-long learning opportunities facilitating interactive Tero trainings, sharing new research and learning from her clients.
Prior to her Tero career Michele enjoyed a twelve-year career as a professional fundraiser in Washington DC and Des Moines, Iowa. She worked 10 years as Chief Fundraising Officer for the largest private high school in the state of Iowa. She grew the school's Annual Fund from $250,000 to $950,000. Working with and leading a team of seven and working with a 45-member Foundation Board she provided oversight for a successful $17.5 million capital campaign facilitating 80+ community presentations.
Her experience and leadership in presentation skills also includes eight years facilitating programs for residents and patients in hospitals and elderly care facilities in St Louis, Missouri and Des Moines, Iowa. Collaborating with a medical team, she created and executed group programs to support patient goals. Programs included Stress Management, Assertiveness Training, Relaxation Techniques, Health and Nutrition.
Michele's community engagement currently includes serving on the Anawim Housing Board as Chair (2014-2015), Iowa-Development Council. She served two years as chair of Iowa State University's Women and Philanthropy Committee, and West Des Moines' Leadership Academy Education Committee.
She and her husband are proud graduates of Iowa State University and parents of three grown children.