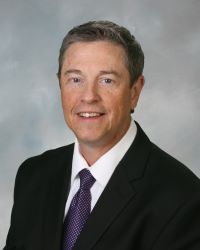 Rodney Tomlinson Joined the Tero Team in 2021. He began his professional career in the retail industry and has over 30 years of practical experience providing training and development. Most recently he spent 18 years working for a local nonprofit organization. During that time, he worked in public relations, marketing and development, as well as creating and delivering training programs.
Rodney brings to Tero experience in theater, professional presentations and announcing. He is a graduate of the World Wide College of Auctioneering.
Rodney began an announcing career in 1997. He got his start volunteering as the PA voice for the JSPC Rams high school football team in his hometown of Jefferson, Iowa. He turned that first opportunity into a business, Tomlinson Announcing.
He is the current Public Address or play-by-play voice for many of Grand View University's athletic events. He can also be heard at several area high schools covering a variety of sports, 4 racetracks and a couple of motocross tracks scattered all around Iowa. In his spare time Rodney has been known to appear on local area stages where he uses his skills to entertain audiences. He enjoys making them laugh and at times even shed a tear or two.
Rodney has volunteered for the Special Olympics, Jefferson High School, The Des Moines Playhouse, Ankeny Little League, Ankeny Parks and Recreation and the Ankeny Community Theatre where he also served on the board of directors.