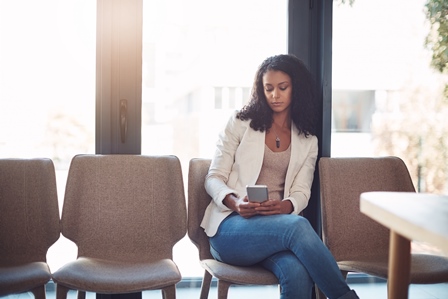 Saying "I'm bored" and allowing yourself to actually BE "bored", could be one of the most productive things you can do. So long are the days of wasteful thinking, and hello are the days of useful boredom. Each moment you allow your mind to stop thinking and be bored, you're really giving yourself the opportunity to be creative.
It would seem that people today try to avoid being bored by attaching ourselves to our phones. Having a screen to look at, pages to scroll and photos to like, is a common way to distract from the silence or boredom of having nothing to do (or avoiding the chance of talking to a stranger *gasp*).
This month I read Bored and Brilliant: How Spacing Out Can Unlock Your Most Productive and Creative Self by Manoush Zomorodi. Her book is about encouraging the use of boredom and proving how being bored isn't bad. Throughout the book, there are challenges for the reader to try and complete, to take steps towards productive boredom.
You won't be surprised to discover that phones and digital devices are ruining our chances to be bored and let our minds wander. I know that in waiting rooms, on the bus or any situation where I might be "bored", I get on my phone and scroll endlessly just to pass time.
Side note- while I did really enjoy this book, I will say, in a book about being bored and brilliant and talking about stepping away from our electronics, it was extremely difficult not to reach for my phone to check snapchat, Instagram or text messages every time it was mentioned it in the book. Which just shows how triggered I've (we as a society?) have become when it revolves around our digital little device ridden world.
But do we ever achieve moments of boredom to allow creative thoughts to occur? Zomorodi gives an example that great ideas can even happen in the shower when your mind has nothing else to do when you're in the routine of washing your hair. "But if we let it, inspiration can strike if we give ourselves permission to take time to focus on nothing in particular - before drifting off to sleep, in the shower, while taking a walk in the woods."
Little did I know I was being bored and brilliant all along,(or so I'd like to believe). For many years I have bought Crayola shower crayons because I've had ideas, stories, opinions, to-dos strike me when I was simply washing my hair. So I would write what I was thinking on the shower wall, knowing I would forget it otherwise. I came up with projects, papers and more when I let my mind go to what Zomorodi calls "default mode".
Default mode is the mental place where we solve problems and our best ideas are generated according to Zomorodi. She goes on to say when our brains are in default mode we begin to engage in "autobiographical planning". She says this is how we make sense of the world, our lives and where we set future goals. Default mode is where our ability to empathize, understand and make judgements happens.
It's not likely we'll all agree to give up our phones and stop using them for games, positing, sharing and making connections. But maybe, we can lessen our time with our devices. Zomorodi recommends finding a dynamic balance between technology and mind-wandering.
You might be surprised by what you can create and come up with when you let your mind-wander and go to a place it doesn't often get to go when your phone is on your hand. Be conscious every time you pick up your phone or something else to distract yourself to not be bored, and be conscious to put it down and let yourself be bored.
Out of sight out of mind, this will give you better odds of achieving boredom.
"It's time to move "doing nothing" to the top of your to-do list" -Manoush Zomorodi