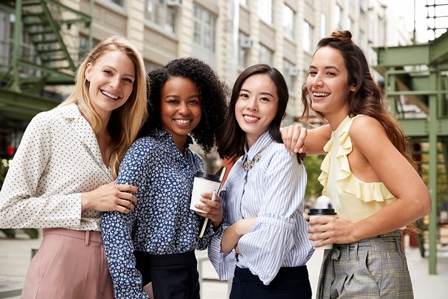 What is a work spouse? It could be a close friendship between you and someone you work with, your best friend who you go in on a partnership with or someone you see as your other-half in creating success.
Do you have anyone you'd consider going into a partnership with? Is it a best friend who you've thrown ideas around with, a coworker who you believe has the skills you're missing from your potentially life-changing idea?
In this month's book Work Wife: The Power of Female Friendship to Drive Successful Business by Erica Cerulo and Claire Mazur, found success in business together after years of friendship. It can be a scary idea to go into business with a best friend type, because you want to make sure both the business and friendship can survive ups and downs.
"Committing to each other as business partners who are also best friends introduces a whole new level of accountability," says Cerulo and Mazur.
Now take a look around at the people who you connect and work with. This isn't just woman-to-woman friendships. This is ultimately the friendships and partnerships you can make with someone no matter their gender. A work spouse is simply someone you connect with and is the ying to your yang as some might say. They help you thrive in areas that might not be your strongest and you help them achieve where they might have blind spots.
You don't have to be working towards starting your own company either. It can be a partnership within the company you already work for. Maybe someone who is in your department, or a department you collaborate with closely.
Cerulo and Mazur offered up some interesting statistics in their book regarding the impact friendships in the workplace have on productivity.
"Per a 2014 survey of 716 random paycheck-earning Americans conducted by the management and employee engagement company Globoforce, 71 percent of the people with friends on the job said they loved the companies they worked for, but only 24 percent of those without in-office pals had the same affection for theirs. And it's not just that people enjoy a working buddy, either. It's that when they do, their quality of work is better."
"Those who [have a best friend at work] are seven times more likely to be engaged in their jobs, are better at engaging customers, produce higher-quality work, have higher well-being and are less likely to get injured on the job," write the authors of Wellbeing: The Five Essential Elements, a New York Times bestseller drawn from Gallup studies that span 150 countries." They write.
You're a team, team dynamics are critical to success, and it might not always be easy when deciding to work with someone you're close to. They offer tips to learning to work together, and making sure your partnership will be successful.
Define Roles- Know early on what your roles will entail and what your titles will be.
Split the Weight of the Work
Present a United Front - Always make sure you are on equal ground when making a decision.
Look for Outside Perspectives - Your partnership may be too close to the situation and you might need an outside pair of eyes to give you advice and suggestions.
Make Decisions Together
Listen
Understand Each Other's Dynamics - Understand how do you work together and how your relationship functions.
Depending on what you're hoping to achieve will determine if having a work spouse is the right choice for you. Something to consider is knowing you'll have the support of friendship along the way is inspiring.
"Work can be hard, wonderful, and occasionally awful, but regardless of where it lands on any given day, both the experience and the end result are improved by the knowledge that the people involved are there for each other, not just for the paycheck," says Cerulo and Mazur.
"If I murdered someone, she's the person I'd call to help me drag the corpse across the living room floor. She's my person." - Cristina Yang, Grey's Anatomy
Now this is an extreme quote example, but it was one given in the book that I liked the most. Finding a person that is there for you no matter what can be a relief to some. Are you that person for someone? That's what a team is. You make it happen together. But how do you know if you're ready to make a commitment to a partnership or team?
Are you ready to take this next step?