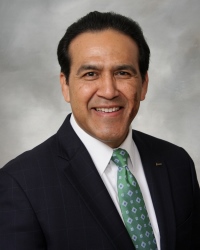 Carlos joined the Tero Team in 2000 and brings more than 20 years corporate training experience to the Tero team. His training experience includes the banking and insurance fields. His strong presence in front of a group, great sense of humor and ability to actively engage participants in the training session ensure that people leave his sessions with take-away value they can use immediately. His enthusiasm, energy and positive attitude are contagious and he consistently earns high marks from those attending his presentations.
In addition to facilitating Tero's proprietary interpersonal skills workshops on relevant topics such as presentation skills, negotiation skills, leadership, etiquette and teambuilding, Carlos serves clients individually as a Professional and Executive Coach and is a popular keynote speaker for conferences and events.
Carlos' continued study in the fields of psychology and sociology have helped him realize that people of all ages can grow professionally and personally. He is excited to be in a position to assist people grow in their skill development to be the best they can possibly be. Carlos is an Upper Iowa University graduate.